Laimi or Chinmi a rungventu CNF/CNA biachim cu lung a hmui hringhran ko. Tutan buainak konghe pehtlaiin atu CNA biachim cu zapi kan caah hnangam tuk hringhran a si ko. Kawlralkap nih uknak an lak mi konghe pehtlaiin CNF/CNA nih an chimmi cu kawlralkap nih fahnak an in pek hna a si ahcun daite in kan um lai lo tiah fiang ko in an chim.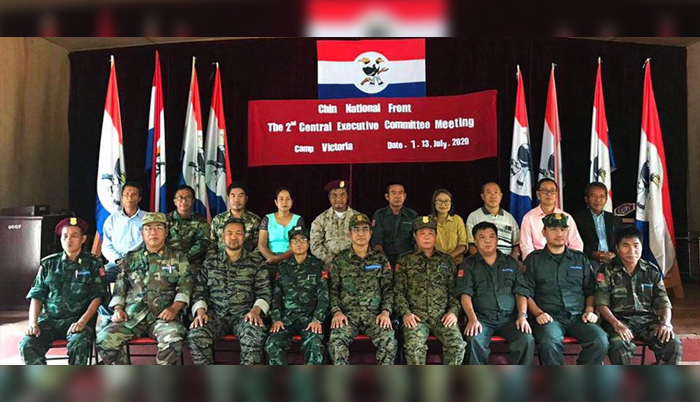 Hi konghe pehtlaiin The Hakha Post nih a langhter mi cu hi bangin hin a si. Mizapi nih thim mi Myanmar ram uknak a laak hnu Myanmar ram pumpi ah ralkap uk kan duh lo ti langhternak cu hmunkip, pengkip ah lamzawhnak tuah dih cio a si i, hi lamzawhnak ah Chin Ramkulh chung in ralkap nih hnahnawhnak, thisen luanhternak an tuah a si ahcun CNF/A lei zong dai tein kan um lai lo tiah CNF/A lei nih an chim.
Hi kong he pehtlai in Chin miphun hriamtlai phu CNA Colonel Pu Solomon Thang Ding nih, "Lamzawh ruang ah ralkap le rianngeitu hna nih mizapi harnak pe hna seh law kanmah nih kilven ding le runven ding in kan i suaisam cia dih cang. Kanmah tlangcung hriamtlai phu kahdoh ngolnak NCA minsen a thu mi hna zong nih cathanh kan chuah cang. Hi cathanh kan chuah mi chung zong ah a bik in kan langhter mi cu, hramhram in ti hlah.
Hriamnam in thihpheih hna hlah, ruru hranghrang in ti hlah. Na ti a si ahcun, mizapi sin ah kan dir lai," tiah fiang tein cathanh kan chuah cang. Hi bantuk a ti sual a si ahcun, mizapi, kan miphun ca ah a dirmi kan si bantuk in mizapi lei ah kan dir hrimhrim ko lai," tiah The Hakha Post ah a chim. Ralkap uk kan duh lo ti langhternak ca ah lam a zawhmi hna chung in Karen hriamtlai phu a si mi KNU hna nih cun lam an zawhnak ah an i tel ve i mizapi zong an dirkamh hna.
An runven hna. Cun, tlangcung hriamtlai phu chung in KNU hi a hmasa bik mizapi sin ah lam a zawh mi an si tiah hmuh a si. Cun, CNA ralbawi Pu Solomon nih, "Ralkap le rianngei hna lei nih mizapi fahnak a pek hna a si ahcun mizapi sin ah kan dir zungzal lai. Tih fawn hlah uh. Atu cu dai tein lamzawhnak kha pehzulh in tuah rih ko uh. Dai tein lam kan zawh a si zong ah hi buainak hi kan tei hrimhrim ko lai.
Asinain, thisen luan cu kan duh hrimhrim lo. Amah zong i ralring seh, dai tein kan cawlcangh mi maw aa thim lai, thisen luan hi dah aa thim lai timi hi cu amah nih aa thim a herh mi a si. Ka chim lengmang bantuk in hi vialte mizapi lak ah a ngamh ahcun tuah seh ca. 1.2.3 in kan phomh colh ve ko lai. Mizapi nan lei ah a dir zungzal mi kan si, " tiah a chimchap. Credit: The Hakha Post.